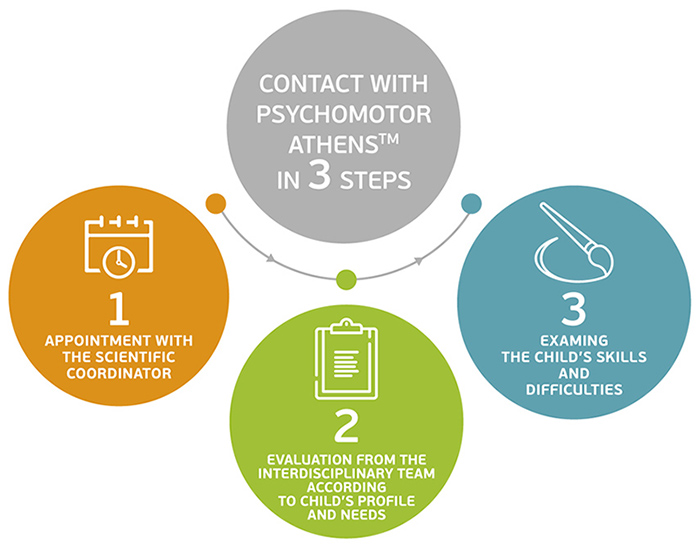 In accordance with TUV AUSTRIA procedures, it is hereby certified that Psychomotor Athens applies a Quality Management System
in line with the above Standard for the Provision of mental health and special education therapeutic interventions in children.

1APPOINTMENT WITH SCIENTIFIC MANAGER
Discussing family's concerns and requests.
Planning assessments and intervention.
Visiting the facilities.
2EVALUATION FROM THE MULTI-DISCIPLINARY TEAM ACCORDING TO CHILD'S PROFILE AND NEEDS.
Occupational Therapy Department:
The child is evaluated in how independent and functional is in his everyday life in the following areas of occupation:
Activities of Daily Living (ADL) and Instrumental Activities of Daily Living (IADL) (taking care of self and others)
School
Play
Leisure
Productivity
Social Participation
Sleep and Rest
Speech and Language Therapy Department:
Speech and language therapists evaluate and strengthen language, oral and communication skills in children and adults who face corresponding difficulties.
Psycho-pedagogical Department:
The child is evaluated in the following:
Social – emotional development.
Cognitive processing (flexibility of thinking, drawing conclusions, Theory of Mind, executive functions, critical thinking, problem solving).
Behavior and Organization.
Symbolic play.
Self – esteem and self-knowledge.
Special Education Department:
Special education refers to the evaluation and intervention program in children with learning disabilities, which is adapted to the child's needs.
The child is evaluated in:
Reading skills
Reading comprehension
Copying skills
Spelling (thematic, end of the word and high frequency words)
Writing skills
Mathematics
Special Education is recommended to children with:
Specific LEARNING Disabilities (dyslexia, dysgraphia, dyscalculia and spelling difficulties).
General Learning Disabilities (immaturity in various skills).
Psychotherapy – Counseling Department:
In psychotherapy, children and teenagers are evaluated based upon:
Detailed child history, taken from parents.
Discussion with the child, which is the starting point for identifying difficulties and the first step of intervention.
Symbolic play, which reveals quality characteristics of the child, of the relationships he has developed with significant others and the difficulties the child faces.
Drawing, constructive play, crafts and stories that are created with therapeutic guidance.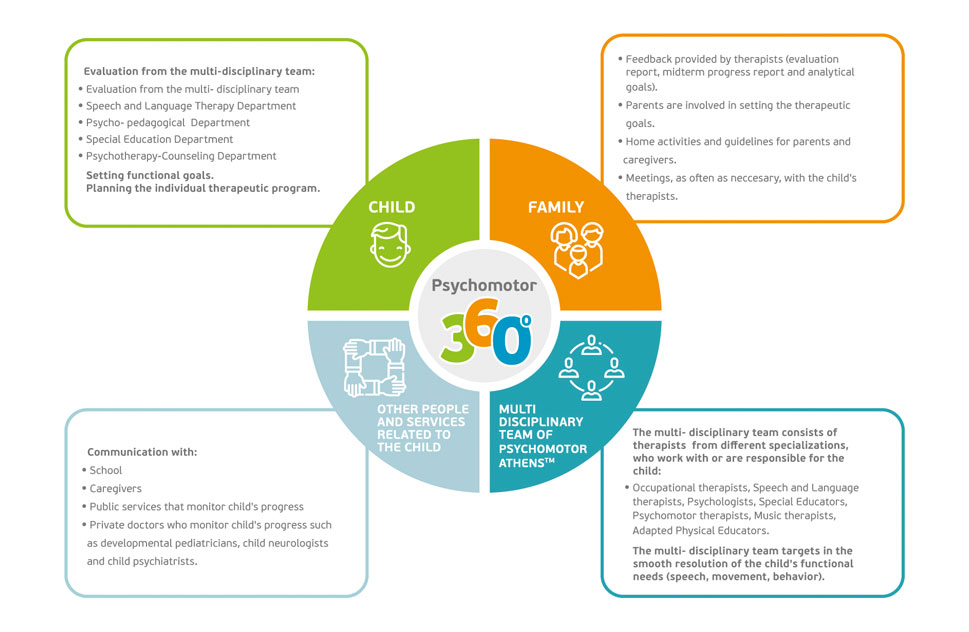 3ΕXAMINING CHILD'S SKILLS AND DIFFICULTIES
Setting functional goals.
Planning the individual therapeutic program.